You know those things in life that you find and you have the thoughts pass through your head like these…
"Oooooh… Where have you been all my life???"
"What did I ever do before this?"
"How could I ever get along without this?"
and then the inevitable…  "Wish I'd have had this thought first."
So, this is my top 10 (or 11 becasue sometimes it's hard to stop on an even number) "So glad I found you" Love List. These loves range from cooking equipment, super yummy things, stylish and beauty items, and other items that don't fit in a category. They simply make their own.
Very official. Very helpful. Very fun.
1. Mary B's Frozen Buttermilk Biscuits
As a Southern woman, and a baker at that, I am going to catch some grief for this item. I know it, I am comfortable with it, and I welcome it.
These biscuits are fantastic! Fluffy, light, perfectly crisp on the top and bottom, and the interior stays moist and steamy. Break one open, smear it generously with a little butter and some blackberry jam and no one would EVER, EVER, EVER, guess that it was from a bag in your freezer. I could never make a biscuit this good, and now that Mary B and I are personal friends, I don't have to.
2. Emi Jay Hair Ties
Oh the wonderment that is the cloth hair tie!  No more uncomfortable pulling and tugging, pain, and hair breakage; all of it is in the past. I personally love these hair ties and swear by them. I buy lighter colors like ivory, pale silver or gray, even some shades of honey and tan and they just blend right in to my blond locks. But, if you want to be bolder and more colorful, you can opt for a turquoise, hot pink, or even leopard print variety.
3. Essie "Good to Go" Quick-dry top coat

My oh my how I love this stuff! A quick top coat of this thick, glossy, and glassy stuff and you are "good to go" (as the label promises) in under 10 minutes. Or 5 minutes if you are anything like me and can't keep your hands out of stuff long enough for the "hard" dry.  I swear by this stuff and recommend it to everyone! Awesome, awesome, awesome product.
4. Pampered Chef Batter Bowl with side measurements
Mom jokes, "When you get married and are registering for your kitchen & home items, the first thing I am going to buy you is a Pampered Chef batter bowl." It's a joke because I literally use this bowl daily. She can barely put it back on her shelf before I am taking it out and using it again. I use it for mixing up batters (obvi), whisking ice cream, muffin mixes, tossing a fruit salad, marinating meat, etc. It is clear, has measurements up the side of the container, and has an easy-pour spout. It really is the perfect kitchen accessory and I can't find enough uses for this bowl. I love it, love it, love it.
5. Olive and Cherry Pitter
Okay, okay. I am the very first to tell you that I am not big on specialized cooking equipment. Things that only do 1 or 2 things, I have no time for. But, that being said, I love an olive & cherry pitter. Life is too short to hand-pit olives and it is simply unladylike and undignified to spit the pit back out at a dinner party. So, this beautiful gem pops the pits right out and the splash shield keeps deep, red cherry juices off your lovely apron!
We have the OXO Cherry Pitter for $13 from Williams Sonoma. See here.
6. The Wet Brush
Honestly, one of the best brushes I have ever owned and seriously the best detangling tool on the market. Brush out your unruly locks fresh from the shower and blow-dry straight for strong, shiny, and sleek hair.
Mine is a Luxor Professional Detangling Shower Brush and you can purchase one on Amazon for less than $10!!!
7. Rooster Cookies
Sometimes late at night while I am gazing up at the stars pondering the many fathoms of the universe, I wonder… "what would my life have been like had I never discovered a rooster cookie?" What a sad existance I would lead.
Yes, a bit dramatic, but these are the most delicious, craveable, amazing, crumbly, chocolatey concontions out there and I want to share them with everyone I know! So unique: from its shape, to its weight, and to its flavor. It is a cross between a slightly salty shortbread and a sinfully rich chocolate chip cookie. In a word… bliss.
Check them out! Please, pretty please, with a big, chunky chocolate chip cookie on top! http://www.rooster14.com/
8. Silpat Non-stick Bakeware
Ahhhh the many uses of Silpat! It is a glorious convenience for the super baker! Nothing sticks, it's easy to clean, easy to store, and conducts heat beautifully.
They come in all shapes and sizes for your baking pleasure. My favorite is the half-sheet pan size perfect for cookies and bars.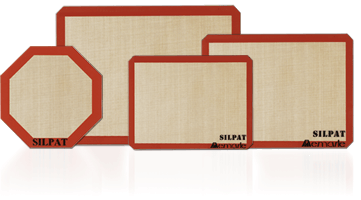 It really is a cinch!
9. Aquage Freezing & Finishing Sprays
I love a good moldable, playable hairspray that is stiff enough to hold style but still soft to the touch and allows hair to bounce and move naturally. That's a tall order! Trust me, I have tested many a hair spray in my day. Aquage products are my new best friend! Love their shampoo, styling products, and their hairsprays! Whether you like a Freezing Spray for a more complex and firmer hold or a Finishing Spray that adds just the right amount of shine and sheen with the added style boost. They each retail for $19 and last me 4-6 weeks normally. A great value! 
10. Rasp or Microplane
While its original uses dealt in wood-working, my rasp is much more useful for zesting citrus, grating garlic or onion into a pan sauce, or grating some parmesan cheese over some hot spaghetti. Nothing beats it and it is so handy, you can find it an any specialty cooking store or even local hardware stores as well.
11. Neutrogena Cleansing Towelettes for Make up Removal
I have been a long-time believe in Neutrogena skin products. Specifically, these towelettes are moist, enriching, leaves my skin feeling fresh, cleansed (even of stubborn eye makeup), and moisturized. For the busy Moms and traveling women in my life, pick up a pack of these bad boys! Love them for those nights of the week that you just don't want to go through your whole cleansing routine. We all have those nights don't we?!? Surely it's not just me…
So, what are some of your favorite things you have discovered that you love? Make your life easier? Make you happy?
Share them with me!!!
xoxoxo